(Revamped the whole page to make it look more professional.)

Tags: apiedit, Visual edit

 

Line 1:
Line 1:
 

This is a MetalStorm: Online plane.[[File:MO-10.jpg|thumb|300px|Stats of the Condor]][[File:Condor.jpg|thumb]]

 

This is a MetalStorm: Online plane.[[File:MO-10.jpg|thumb|300px|Stats of the Condor]][[File:Condor.jpg|thumb]]

 
 
 
+

The MO-10 Condor is a reasonably top-tier defense class plane. The aircraft's boosts mainly revolve around weapons, namely missiles. However it also possesses ample natural armour regeneration, regenerating quickly enough to be useful in a dogfight unlike most other defense and agility class aircraft in a deadly combination of attack and defense, not so much in the area of handling such as speed and agility.

−

It ressembles to a YF-22 "lightning ii" before to be change to "Raptor". Only 2 were fabricate for the ATF competition.

 
 
 
 
+

Survival mode and campaign mode is where this aircraft excels at due to its high armour regeneration and synergy with missiles.

−

The MO-10 Condor is a pretty cool defense class plane. If you didn't see the Defense Class thing on top, you probably would've it was a weapons class plane with armor regen. The increase in missile stats is pretty high and the damage is pretty good too. The added armor regen makes this plane a very good survival mode plane. The plane has some pretty good stats and is highly recommended.

 
 

[[Category:Planes]]

 

[[Category:Planes]]

 

[[Category:MetalStorm: Online]]

 

[[Category:MetalStorm: Online]]
---
Latest revision as of 10:16, 22 June 2017
This is a MetalStorm: Online plane.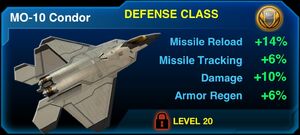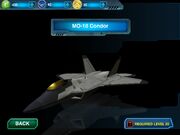 The MO-10 Condor is a reasonably top-tier defense class plane. The aircraft's boosts mainly revolve around weapons, namely missiles. However it also possesses ample natural armour regeneration, regenerating quickly enough to be useful in a dogfight unlike most other defense and agility class aircraft in a deadly combination of attack and defense, not so much in the area of handling such as speed and agility.
Survival mode and campaign mode is where this aircraft excels at due to its high armour regeneration and synergy with missiles.