F-105 Bobcat



Class

Defense

Cost

65 Blue Coins

Stealth

+5%

Armor

+7%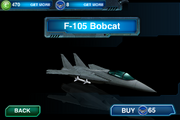 This is a MetalStorm: Online plane.
F-105 Bobcat: Defense Class
Real name: F-14 Tomcat

Its a shame that Z2Live has chosen to place Tom Cruises "Top Gun" classic as a low level defense class plane. The Bobcat is not exactly what Maverick, Goose & Iceman would have wanted to fly. The Bobcat really does not have any qualities that would compel me to ever want to buy it - if you want a defense class plane, save up and buy the Arbiter or Dragon with credits and don't spend coins on this thing. It has some stealth which is cool, but its just not worth the price.