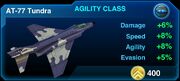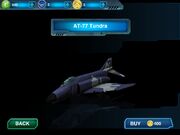 This is a MetalStorm: Online plane.
The AT-77 Tundra is an agility class plane.
It looks like the FA-119 Reaper but has green camoflage and smaller wings. It has damage +6%, agility +8%, speed +8%, and Evasion +5% bonuses. It is however not the best choice when fighting against superior opponents. It costs 400 medals.
Trivia
[
]
It is a F-4 Phantom II fighter jet of the Cold War.